"After Kayna was discovered, the bottom of Tribal Island was explored. Many Monsters were discovered in purple amber, along with the Flamwish."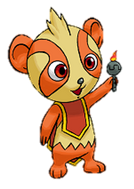 Description
Edit
Breeding
Edit
Flamwish can be bought in the market for 600 C.
It can also be bred by a failed combination between Flamwish and another monster.
This is the second single-element Fire Monster.
Ad blocker interference detected!
Wikia is a free-to-use site that makes money from advertising. We have a modified experience for viewers using ad blockers

Wikia is not accessible if you've made further modifications. Remove the custom ad blocker rule(s) and the page will load as expected.